Water Distribution Project
PROJECT OVERVIEW
The village of Valle Valerio in Nicaragua has an outdated water system that no longer sustains the community. The current pump is past its expected lifespan, the water quality can be improved, and the current distribution system is not designed to provide water to the whole community. The current system also lacks a method to track water usage and the drinking water has traces of E. Coli that should be removed. Lastly, the existing tank is on disputed land.
OBJECTIVES
The University of Houston chapter aims to improve the quality of life of the Valle Valerio community by improving the current infrastructure so that every member in the community has access to clean drinking water.
In order to achieve this goal the possible solutions we have considered are:
Replacing the existing water tank
The original tank was on disputed land, so Sofonic (Nicaraguan non-profit that builds water tanks in Nicaragua)
donated a new tank to the project under the condition construction begins by March 2023
Extending the system:
Extending the distribution system as a gravity fed pipeline.

Extending the distribution and pumping the water to the extended portion.

Leaving the pipeline as is.

Improving the chlorination system.
Ensuring the water quality is up to WHO standards
Assessment Pre-Trip Plan                                                                                                           Spring 2021

Identify the scope of the project

Identify partners involved in this project

Analyze project feasibility

Identify existing data and required data needed to complete the project

Identify Indicators and beneficiary analysis terms to measure success of the project

 Data Analysis and Scope Development (Assessment Post-Trip Report)                            
 Fall 2022
Analyze pre-assessment trip results and data collected. 

Identify data required to complete the project

Re-evaluate project feasibility 

Re-evaluate Indicators and beneficiary analysis terms to measure success of the project
Alternative Analysis                                                                                                                       Fall 2022

Identify design criteria

Draft, description, sketch, cost estimate, maintenance plan, materials lists, local staff list, and phases of at least 3 alternatives

Implementation Plan

Select best of proposed alternative solutions

Draft design description of existing infrastructure and proposed facilities

Identify design methodology and list of standards and codes used

Form a list of calculations and material specifications

Draft construction budget

Draft Construction Safety Plan

Facilitate all on-site construction

Procurement of construction materials

Draft description of construction activities

Analyze material testing results and system performance data

Identify changes to operation and maintenance plan

Analyze indicators and beneficiary analysis results.

Monitoring & Evaluation Pre-Trip 

Draft a summary of completed structures

Identify a list of proposed repairs and the reasoning for repair

Summarize data collected

Monitoring & Evaluation Post-Trip 

Analyze results of data collection

Evaluate success of project based on indicators, beneficiary analysis and project impact

Project Completion

Organize, plan and record matters related to project management and construction communications
Currently, EWB-UH is working with Valerio, another small community in Nicaragua, on a project to redesign and improve their wells, water pumps, storage capacity, and distribution system. We have established community contacts, specific community needs, and community demographics. The next phase of the project is to conduct an assessment trip to the community itself to gather survey data, logistics research, design input, and objective clarification, as well as providing the opportunity to build community relationships. Once the data is gathered, we will begin working to design a water distribution system that will meet all of the community's needs.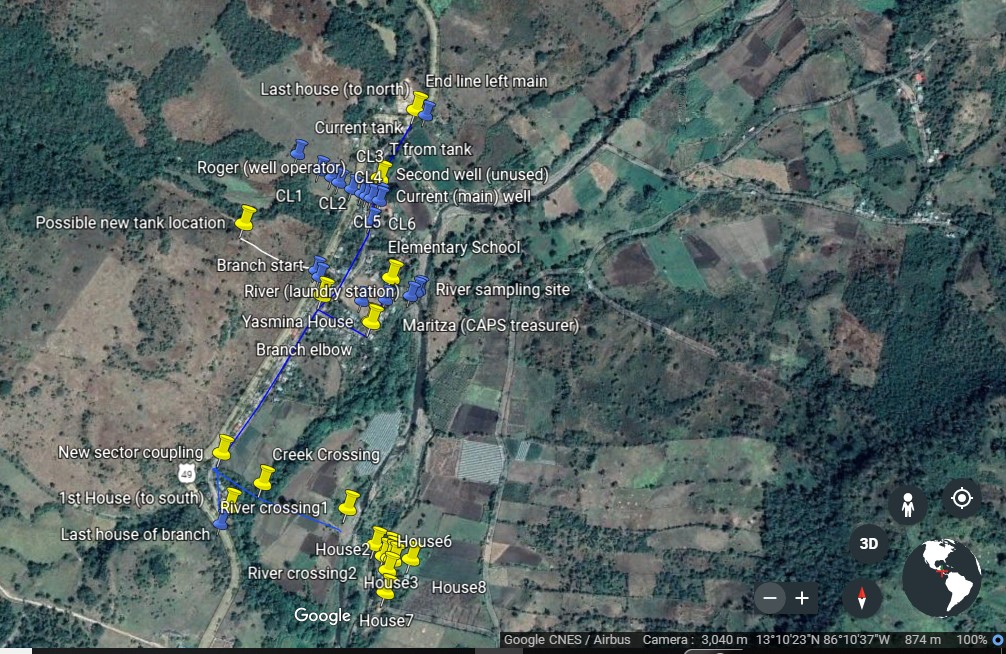 All together, this project has the potential to provide approximately 900 people with constant access to clean water using a simple and sustainable system.By completing this project, much needed water will be distributed to a total of 900 community members right To  their doorstep. The families of the community will be able to use this water to drink, wash their hands, and bathe just as we all are able to. The need of this water distribution project has been a top concern of the community. However, the community lacks the resources and technical skills to tackle their problem. That is where the University of Houston Chapter comes in. Working alongside the community, the University of Houston Chapter strives to make this dream, a reality.
A total of about 900 people
with reliable access to water
Safer water to drink
Healthier Community
Better quality of life
Community equipped with
skills to manage system